HOME OF THE HEAVY DUTY BEAUTIES... WHERE PLUS SIZE & FASHION COLLIDE!!!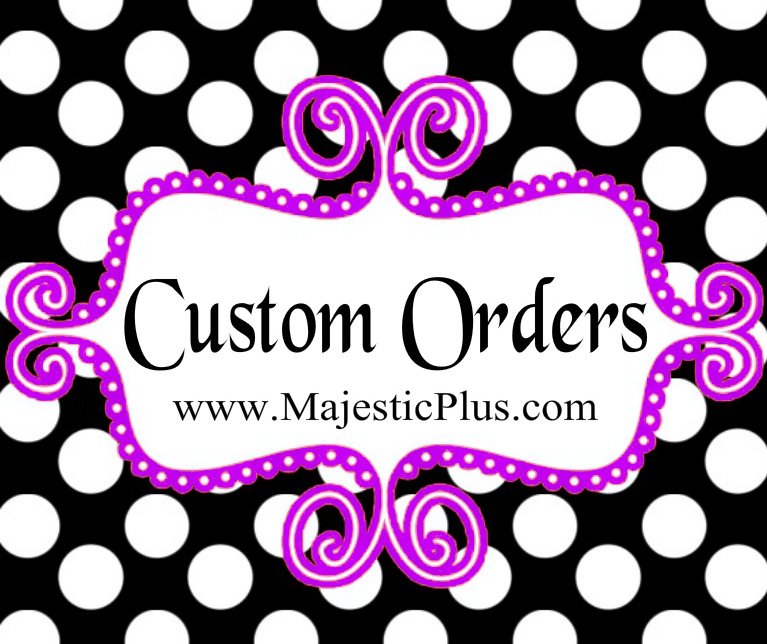 I am now taking "5" custom orders per month on the 1st of every month, and because of the daily demand of my Boutique, that takes precedence over ALL custom orders. I am allowing myself to squeeze in no more than "5" custom orders per month so that I can still "LIVE" and enjoy life and maintain balance with my health and stress levels. My time is VERY limited so please DON'T waste it. Here are a few things you need to know about this process:
1)
To Receive a Quote there is a $25 Fee that Goes toward your Order. I do NOT have time to do Quotes that don't turn into Orders. My time is VERY Limited! NO Window Shoppers PLEASE!!!
Orders are 1st PAY, 1ST SERVE! Which means you DO NOT go on my list until you have paid for your order in full. All Custom Orders are Final Sale! No Refunds! No Exchanges! No Exceptions!
2) Once you pay, You will not hear from me until I am ready to ship your order unless I have questions, requests or concerns. You will receive a tracking number at that time. If you call and aggravate me, I will push your order to the end of the line and do it at MY discretion. Again, My time is VERY limited so DON'T call me, I'll call you!!!
3) You are only allowed 1 outfit per order and only 1 order per month. I have to be fair to all my customers, so PLEASE don't ask me to bend the rules for you. You are NOT better than the next customer. Putting me in that position is an easy way to cancel your custom order privileges bc THIS is a privilege. If a friend or family member would like an order also then they have to place their OWN order, with their OWN info and payment information.
4) I will NOT be doing anymore BEADING or STONING bc it is too time consuming. Very intricate designs that are not my own will be turned away as well bc I don't have the extra time to put into your garment unless I have some extra time and choose to take it on myself...
5) I DO NOT DO DEADLINES!!! You will not be throwing last minute deadlines on me adding to my stress levels and running up my pressure. If you want your order done on time then I suggest you PLAN AHEAD and get your order put in, in a timely manner.
6) Before you call me with your order these are the things you should have ready:
Your design. I am not a psychic so know what you want prior to calling. If you want me to design something for you then there will be an additional design fee adding to your order.

Your measurements. I need your basic Bust, Waist, Hip measurements so I know what your true size is. Alot of you are in denial and still wearing a 2X when you are a 4X so I can't trust you. I only believe your numbers. You can go to a fabric store and get a 100" soft measuring tape or order one online from Amazon. Here is the link:

Fabric & Color you want your garment made in. Your fabric cost will be included in the price of the garment. I prefer to pick your fabrics bc all fabrics don't fit all designs and I only like to use QUALITY fabric. I may show you samples when it is time to buy your fabric and fabricate your order. C.O.M. fabric is by prior approval ONLY!!! No Exceptions!!!

Your Name, Address, Phone Number and Email Address because your quote comes in PDF format. Sorry, I am NOT using your FB nickname for your order. This is a LEGIT business and I will handle ALL business matter appropriately.

And Finally, your FULL payment. If you don't get paid until Friday, then don't call me on Tuesday or you will get your feelings hurt wasting my time... Again, My time is VERY limited. I don't have time to entertain WINDOW SHOPPERS!!!
7) Please follow ALL rules and protocols to make this as smooth and enjoyable as possible. If you feel this is too much to deal with then please KEEP IT MOVING!!! I have thousands of women to make happy constantly so all cooperation is appreciated. Get It? Got It? GOOD!!!
THANK YOU KINDLY for all the support and trusting me to personalize the clothing in your life. I look forward to serving as many of you as I possibly can. I will consider doing a waiting list at the end of each month once I see how this process goes for a few months. Until then BE BLESSED!!!